'20 Bailey Lillis Commits to Hamilton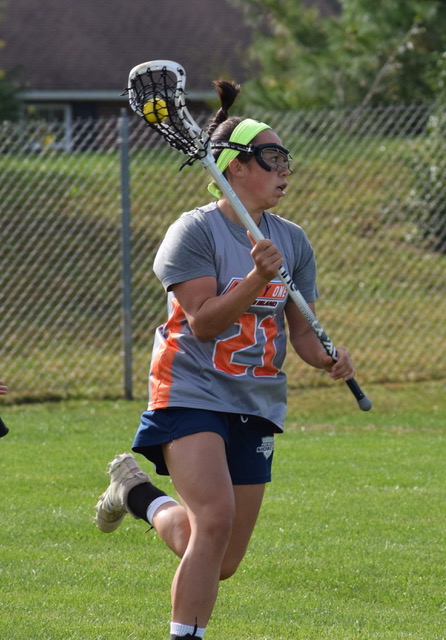 Follow Team 91 on Instagram, Twitter and Facebook. 
When Bailey Lillis envisioned her recruitment, she expected the exact opposite of what she ended up getting.
"I thought I wanted a Division I school in the South," said Lillis, a Team 91 2020 and Sayville defender. "I loved the warmth and the beach, and I thought it was what I wanted. I visited schools in the South, and they either didn't work out or it wasn't exactly what I wanted."
Her father, Bryan, saw things a little bit differently than his daughter, and he brought up the idea of visiting Hamilton, a small but prestigious sch0ol, one that's… decidedly not in the South. Once the Lillis family made it on campus, though, the dream of beaches for four years quickly fell by the wayside.
"My dad thought that it fit my personality, and as soon as I got on campus, I thought, 'this is it,'" Lillis said. "I guess I also had a preconceived notion against Division III going into it, but I realized that just because it's Division III, it doesn't mean that it's not legit. In the NESCAC, every game is super competitive and every team is close to each other."
It didn't take long for Lillis to be sold on the school, and she chose to commit to Hamilton, becoming the first girl in Team 91 history to choose the Continentals. Even though she was drawn to the high level of lacrosse that Division III and the NESCAC, specifically, have to offer, she was even more impressed with the school's academics, which rival many of the country's top institutions.
"That was one of the biggest reasons," Lillis said. "For everything that I worked at to get good at lacrosse, between my stick, my speed and my fitness, I worked even harder for a long period studying and putting effort into my schoolwork to get the best grades. It wasn't something that I wanted to give up, and it was a really big part of my decision and as to why I was drawn to Hamilton."
Academics and Athletics
A scrappy, tenacious defender who thrives in a leadership role, Lillis has seen her game continually evolve in her time at 91, and her playing style fits in perfectly at Hamilton. The Continentals are two years removed from three straight double-digit win seasons, and players like Lillis are what will help them get back to the top of the NESCAC.
"It's really cool, especially when I look back to all of the time that I spent in the gym and on the pitchback, putting in a little extra time," Lillis said. "Coach Greg Antolini from 91 also helped me a lot. He had a different coaching philosophy where he was kind of laid-back but still expected a lot. He was one of the first coaches that I had when I started, and he helped me so much."
On the flip side, it's particularly rewarding for Team 91 Girls director Alyssa Guido to see a player like Lillis rewarded for her hard work and dedication.
"Bailey has worked incredibly hard to put herself in a position like this, and she deserves what she's getting at Hamilton," Guido said. "She didn't want to sacrifice academics, and she didn't have to with Hamilton, where she'll be able to get a great education while also playing high-level lacrosse. We're incredibly excited for her and can't wait to watch her in action."
On the other hand…
Of course, the downside to committing to Hamilton is admitting that her dad was right when he first suggested the visit, which is never easy to do.
"I didn't want to like it, but I did, and it's a perfect match for what I wanted out of a school," Lillis said. "I'd tell anyone who's in a similar situation to keep your mind open, because it's not exactly what you think, and just see what the people that love you have to say. It'll all work out in the end."
Hard to disagree.