GIRLS EVAL CAMP- WEATHER UPDATE URGENT
WEATHER ALERT-Changes To Today's GIRLS Schedule
In effort to get ahead of the impending storm, we are shortening today's session to one hour (1pm-2pm).
We will begin checking in girl's campers at 12:30 (please do not come prior to 12:30 to ensure enough time for the parking lot to empty from the morning session).  We encourage participants to check in, collect your tryout reversible and get fitted for your uniform and gear giveaway.  Then we will get out on the field for one hour.
To make up for the lost time, we will also be adding one hour to each remaining day, Tuesday and Wednesday (1pm-5pm daily).
CANDLEWOOD MIDDLE SCHOOL
1200 Carll's Straight Path
Dix Hills, NY 11746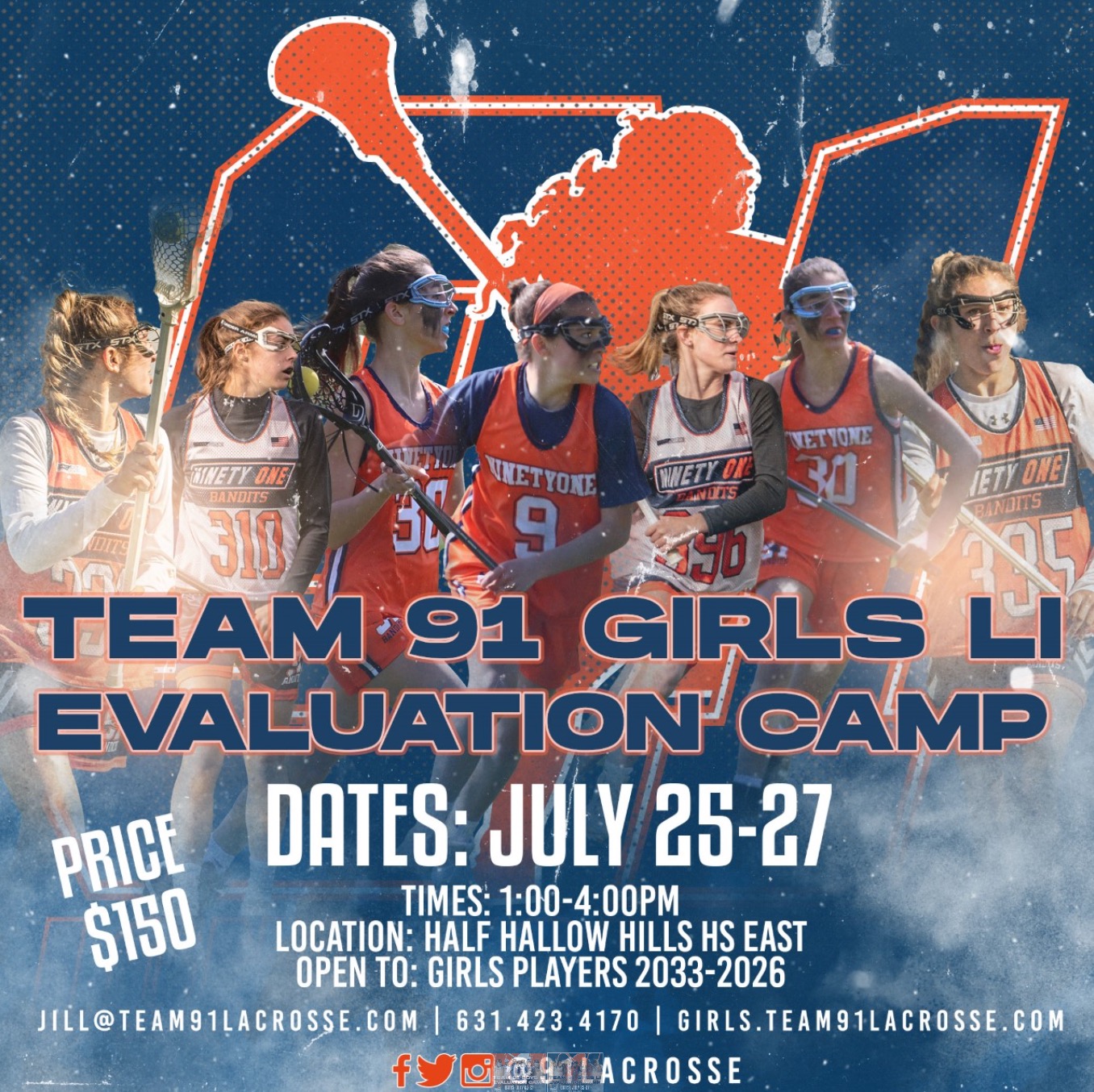 We're making our way to the top and nothing's going to stop us.
The Team 91 Long Island girls' program continues its upward ascent every year. We train harder than anyone else and the results are showing. Ready to be a part of it?
Tryouts for the 2022-23 season are July 25-27 at CANDLEWOOD MIDDLE SCHOOL.
THERE HAS BEEN A LOCATION CHANGE: Candlewood Middle School (1200 Carlls Straight Path, Dix Hills, NY 11746)
If you want to join the fastest-growing girls' club on Long Island, this is your time to shine. When you play for Team 91, you're learning from the best coaching staff in the game with former Division I, II and III players sharing their passion and enthusiasm for the game. You'll compete against great teams and pick up a ton of new tricks, but you'll also have a whole lot of FUN in the process.
Ready to go? See you at tryouts.
DATE
July 25-27
(Monday-Wednesday)
TIME
1:00-4:00PM
Check In Begins 12:00PM
OPEN TO:
2026-2033 (11th-2nd Grade)
PRICE + WHAT'S INCLUDED
$150 per player
Tryout Reversible
LOCATION
Candlewood Middle School (1200 Carlls Straight Path, Dix Hills, NY 11746)
Registration for evaluation camp is now closed.
Walk up registration at our Team 91 Head Quarters tent is welcome.
Check-in begins at 12:00pm at Candlewood Middle School.