'22 Orange Emily Sheridan Commits to Dominican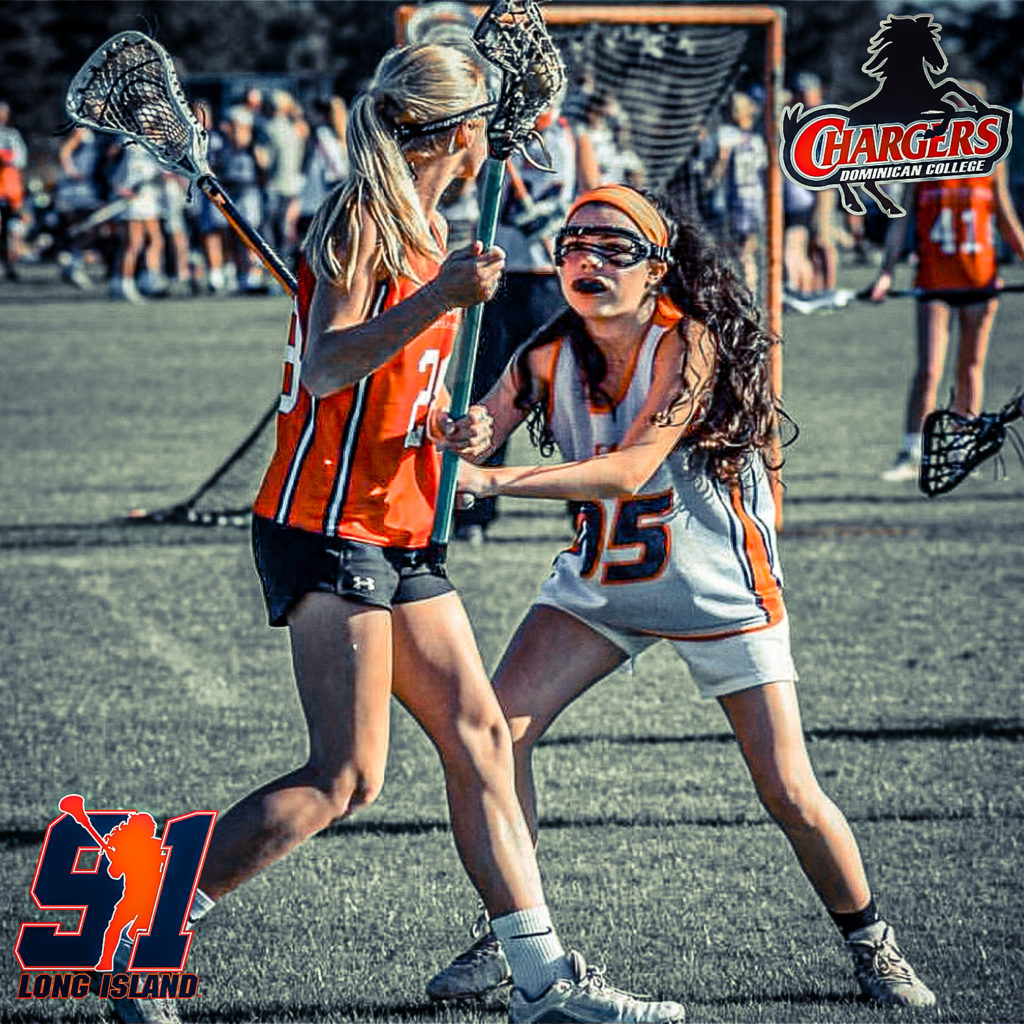 Follow Team 91 on Instagram, Twitter and Facebook.
Emily Sheridan knew it pretty much as soon as she stepped on Dominican's campus.
The Team 91 2022 Orange and Hauppauge defender had seen enough on her visit and she knew it was the place for her. She was so convinced that she even wrestled with the idea of immediately committing.
"When I was there, I knew in the back of my head that it was where I wanted to go," Sheridan said. "I was thinking, 'should I text them and say that I'm committing? I did it two days later and asked myself why I waited. I knew that the school was right."
Sheridan became the first '22 Orange player to commit and the second Team 91 '22 to commit after '22 Rapid Fire's Bella Rupolo (Bellport) verballed to Western Connecticut. She'll join a pair of 91 '21 alums in Lea Henke (Rocky Point) and Josie Lettieri (St. Anthony's) at Dominican, where they'll be coached by Team 91 New Jersey girls' director Rob Grella. 
The quick decision was made significantly easier because of Dominican's ability to combine so many of the things that Sheridan wanted. It was closer to home than the other schools that she considered, and she was also drawn to Dominican because of its strong education program.
"I've always been interested in going into education and I think early childhood education is for me," Sheridan said. "Special education is also something I've always been passionate about. My mom was a teacher who's worked in special ed for the past few years, so it's something I've been interested in. I also knew that I wanted to play Division II, where I can still be intense, work hard and be competitive, but I can also have fun and have a social life outside of lacrosse. I liked that Dominican is a smaller school with a community around it."
A Defining Position Change
It's ironic that Sheridan got recruited to play college lacrosse because she started her career at the other end of the field. Her beginnings at attack were unceremonious, to say the least.
"I played attack in elementary school and I was terrible at it," Sheridan said with a laugh. "In sixth grade, my coach said to go play defense, and I never played attack again."
The new home suits her well, too. She prides herself on her aggressiveness and ability to push people around, and because of that and some excellent top-end speed, she's blossomed into a collegiate prospect on the back end of the field.
A New Charger
"Emily has been a consistent force for us on defense for the past few years, and she has the ability to make an excellent defender at the collegiate level," '22 Orange coach Sara Carotenuto said. "She does a great job of playing both 1v1 and team defense, and her speed is a huge asset for us. More importantly, she's an awesome person and teammate who has worked incredibly hard to get to this point. I'm so excited to see what she does for Coach Grella at Dominican."
It's a fitting way to highlight her Team 91 career, and for Sheridan, it's a spot she wouldn't be in if it weren't for her teammates and coaches.
"91 has been amazing for me," Sheridan said. "When I came to the first tryout, I wasn't very good. All I'd played was with my town team and I was very raw. The coaches saw potential there and always worked to get me better. It wasn't that you had to come and be the best. They could see when you had potential and every coach I had recognized that and helped me become the best player that I could be. This year in particular was amazing, especially Sara. She's been everything we've been waiting for."
And a commitment is everything that Sheridan was waiting for, too.