2022 Team 91 Girls In College: April 13 Recap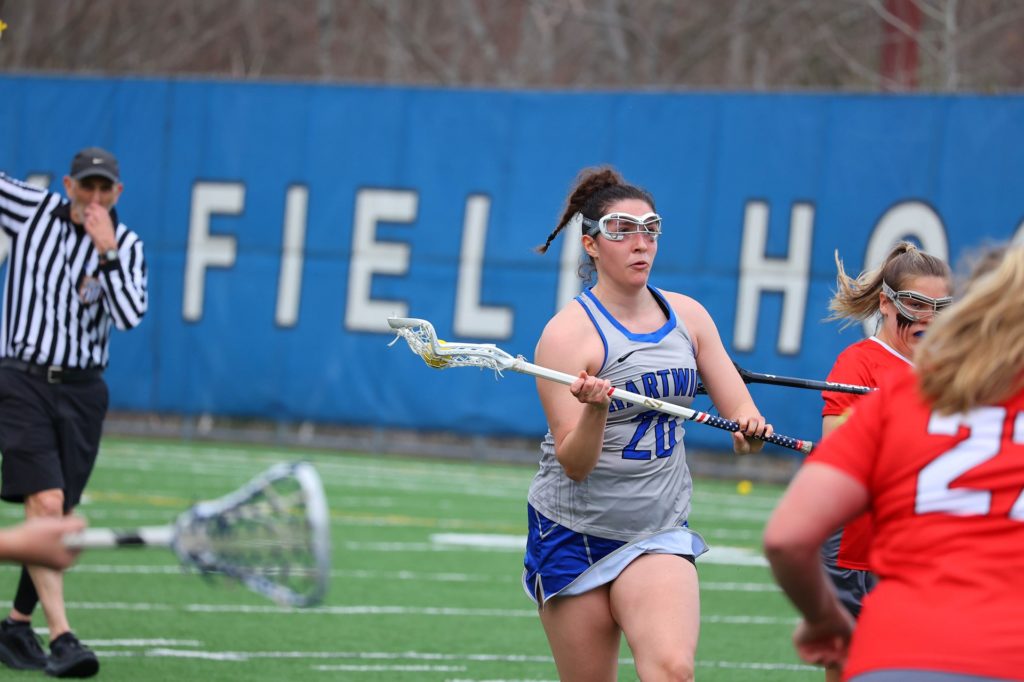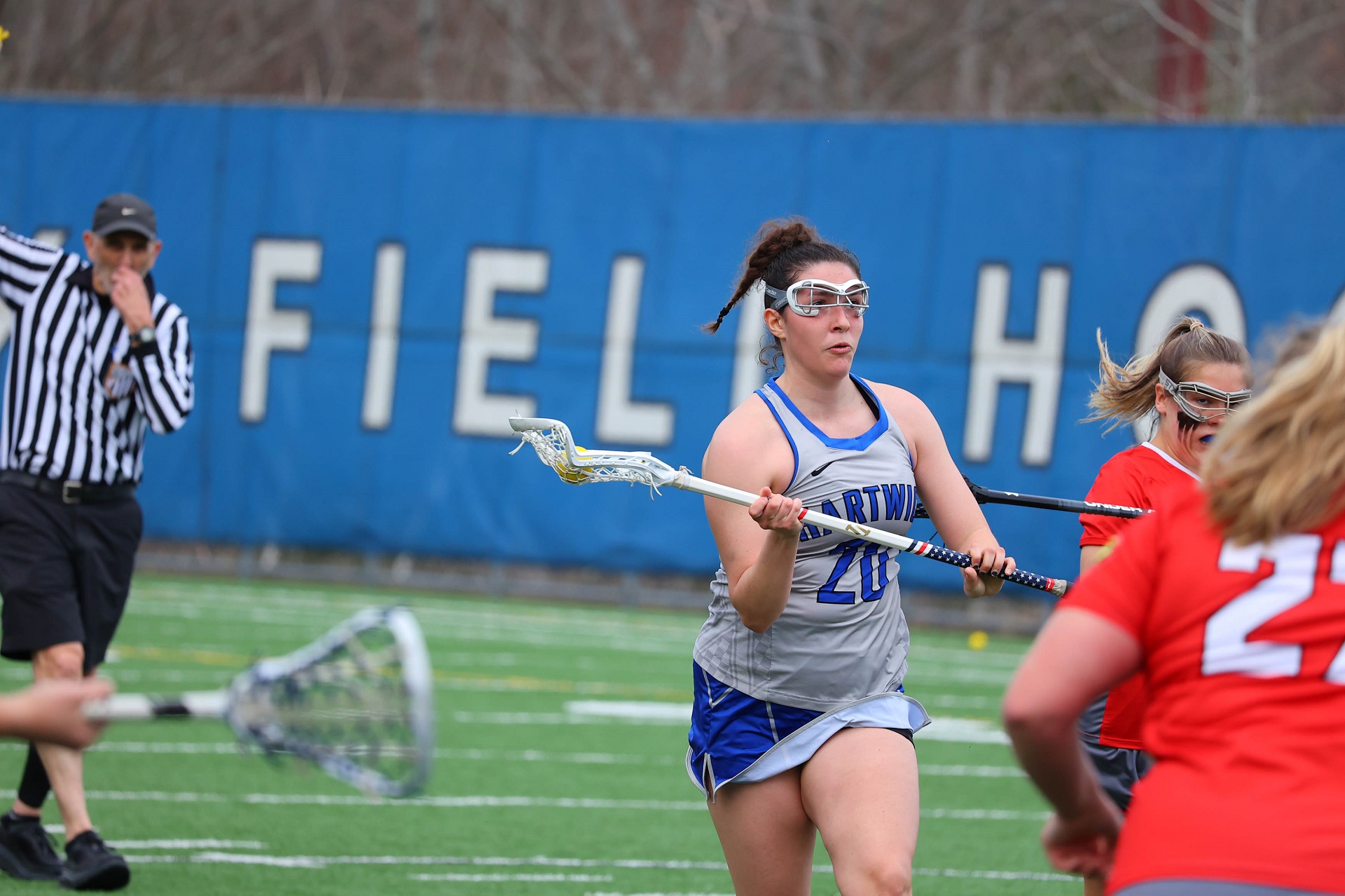 Follow Team 91 on Instagram, Twitter and Facebook. Did we miss a Team 91 alum? Email us. 
Kristen Vaccarelli hasn't wasted any time in making her impact felt as a Hartwick freshman.
The Team 91 2021 alum by way of Half Hollow Hills West was front and center in the Hawks' 20-11 win over Alfred. She posted a whopping six goals and one assist to lead the way for Hartwick… and it probably wasn't even the most impressive part of her stat line.
Vaccarelli completely dominated draw controls, coming up with a dozen to go with another dozen ground balls. It came on the heels of a two-goal, five-draw control, one-ground ball day in a 15-6 loss to Utica. Vaccarelli leads the team this season in goals (25), points (31), ground balls (30) and draw controls (54).
Drew 9, Kean 8
Kean 20, Rutgers-Camden 3
'17 Amanda Ehrhart (Connetquot) was a force for Kean in its blowout win. She dished out five assists to go with a goal, four ground balls and a caused turnover after scoring twice and setting up three more goals against Drew.
Coast Guard 9, Western Connecticut State 8
Western Connecticut State 16, Castleon 1
'19 Anna Schipf (Babylon) gave WestConn a shot to win in overtime with a 13-save, six-ground ball, two-caused turnover effort against Coast Guard. She then picked up a ground ball in very light duty before ceding the cage to her backup in the rout against Castleton.
Stevens 13, Misericordia 5
'20 Michelle Torzili (Glenn) tallied once for Misericordia.
RPI 17, Vassar 8

'20 Riley Kelly (Syosset) picked up two ground balls against RPI.
Geneseo 22, Potsdam 4
'18 Victoria Cacioppo (Glenn) helped kickstart the Geneseo rout with a ground ball.
Division I
Saint Joseph's 16, George Mason 6
George Mason 14, George Washington 10
'17 Melissa Capri (St. Anthony's) made her presence felt for the Patriots, putting up three ground balls and a caused turnover against the Hawks. She then helped George Mason find the win column with four ground balls and a pair of caused turnovers.
Stony Brook 20, New Hampshire 9
'20 Lauren Kenny (Riverhead) dished out an assist to help the Seawolves cruise.
Mount St. Mary's 13, LIU 9
'17 Hailey Duchnowski (Miller Place) was a rock in the Sharks' cage with 10 saves, nine ground balls and a caused turnover. '18 Sydney Marzano (Smithtown East) dislodged a pair of turnovers for LIU, which also got a draw control from '20 Brianna Tribble (Longwood).
UMass-Lowell 11, Binghamton 9
'19 Cassidy Evans (Glenn) picked up a ground ball for the Bearcats.
Division II
Lock Haven 16, Edinboro 2
Lock Haven 14, Gannon 8
'17 Caitlin Morrow (Massapequa) went off for a career-high five goals in the Bald Eagles' win over Gannon. She also helped Lock Haven to a win over Edinboro with a draw control.
Pace 20, New Haven 10
Pace 16, Bentley 6
'21 Kate Laico (East Meadow) stopped four shots in relief in the New Haven game, then secured the start and stopped three shots to help Pace sweep its week's slate.
Dominican 20, Nyack 1
Dominican 19, St. Thomas Aquinas 12
'21 Josie Lettieri (St. Anthony's) fueled the rout of Nyack with a pair of goals to go along with four ground balls, three draw controls and a caused turnover. She then pocketed a goal against STA.
Assumption 16, Saint Anselm 9
Le Moyne 16, Assumption 9
'17 Haley Rose (Shoreham-Wading River) was a defensive force for the Greyhounds with two caused turnovers in the win and three ground balls and a caused turnover against Le Moyne.
Notre Dame 18, Charleston 9
Frostburg 24, Charleston 11
'18 Colleen Ryan (Commack) fired home a hat trick against Frostburg after collecting a ground ball against Notre Dame.
NAIA

SCAD Savannah 27, Truett McConnell 3
'18 Mackenzie DeMott (Half Hollow Hills West) celebrated Senior Day in style, firing home a hat trick to go with an assist and a caused turnover as SCAD Savannah rolled.
Keiser 19, Life 14
'19 Sydney Passaro (Center Moriches) handed out a helper to push Keiser past Life.