22′ 91 Bandits Goalie Caelan Connors Commits to Southern Connecticut State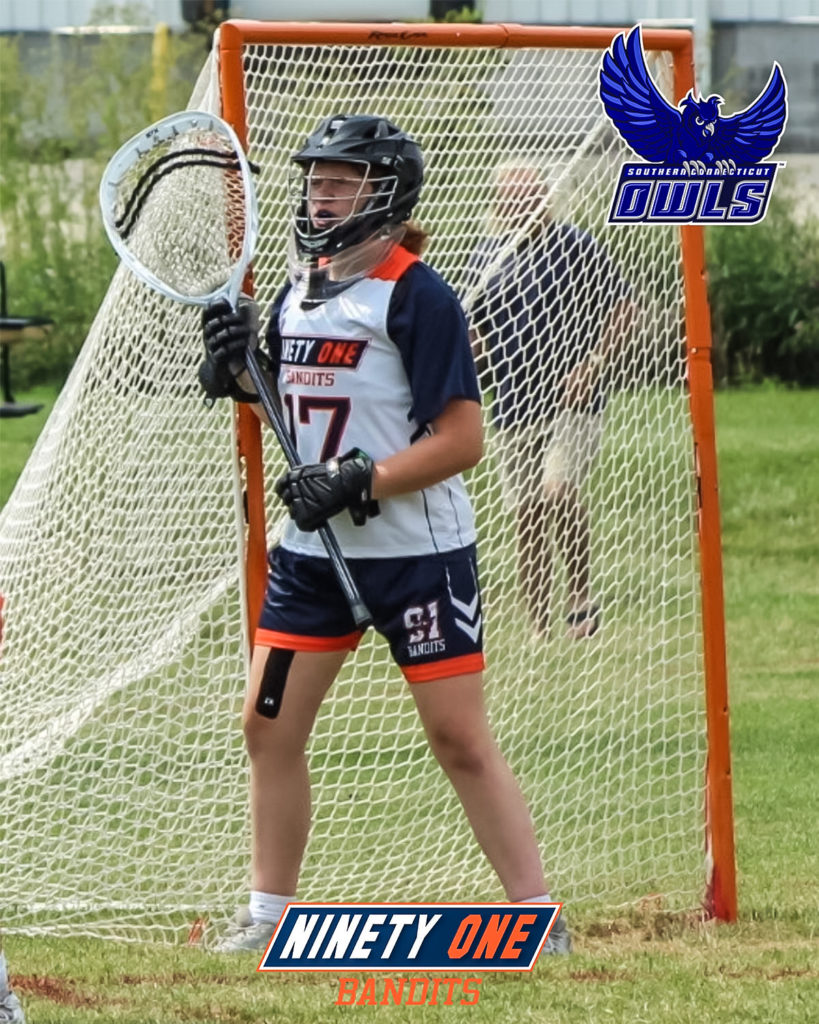 With the national championship caliber competition of the NE10 conference, Southern Connecticut State needs a player between the pipes that can stand tall and make some key stops. Caelan Connors, the Team 91 Bandits 2022 goalie out of Sachem North can be that spark for the Owls that they need to compete for a conference title. Connors has been addicted to the camaraderie of being a part of a team and the competition that comes with lacrosse ever since she first picked up a stick in fourth grade with a group of her friends.
"I kept playing because I loved the game and the competition. I couldn't imagine ending my career in high school, I want to continue playing the game I love," Connors said. Being the Team 91 Bandits goalie has put her in a position to succeed and continue to improve by playing against high-caliber players on a consistent basis, leading to her decision to play at the next level.
The Decision
Since joining the Bandits program and with the merge with Team 91 in 2021, Connors has been confident in her skills in net, bringing her to the biggest decision a high school athlete has to make, "What school will I spend the next four years?" The beginning of her recruiting journey was filled with question marks, but when Sept. 1 came around, Connors was getting looks, one being Kevin Siedlecki, head coach of the Southern Connecticut State program.
With high competition checked off Connors' list and the aspiration to pursue a nursing major falling into place, she knew Southern Connecticut was the right fit.
"The coaches are amazing and the environment felt like home, and the conference has really tough competition. I also loved how it was still close to home so my parents could come watch and support me," Connors said. "The future transition to the next level looks like it's going to be a smooth one, considering the positive impact the coaching staff, players and other 2022 recruits have made on Connors so far.
There is no doubt Connors will have an impact for Southern Connecticut State in the near future. She consistently stays tall in net, while being patient and accurate during clears. She takes pride in her quick reactions and exploding to the ball when facing a 1v1 opportunity for the opposing team. Connors is what you look for in a goalie that can be the difference in a game, making multiple back to back saves, staying poised throughout the game and not forcing it when clearing the ball.
With the weight of committing off her shoulders, Connors is ready to be a senior leader for Sachem North this spring before graduating and competing in one of the best conference in Division 2 lacrosse.