22′ Orange Attack Michelle Pecoraro Commits to Massachusetts Maritime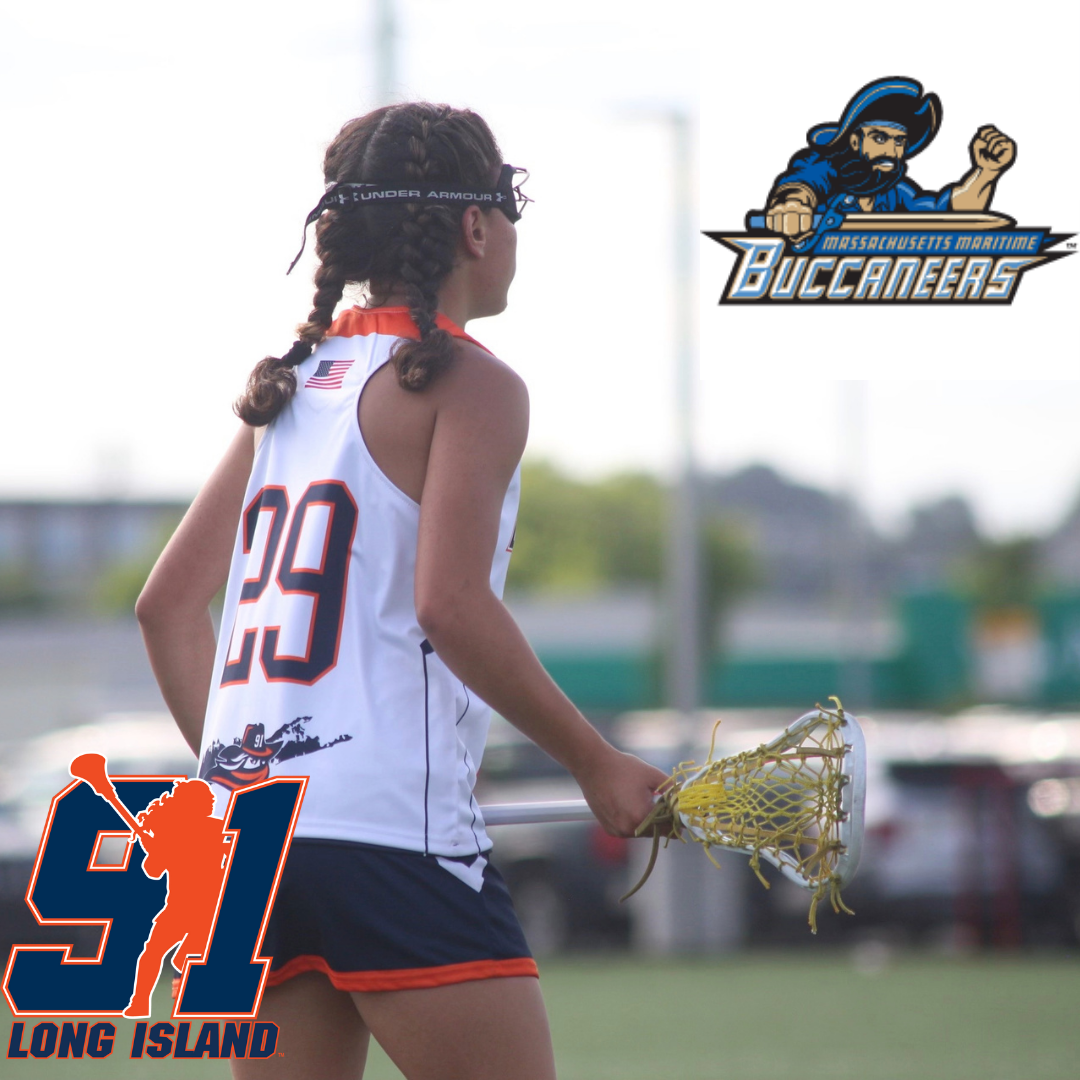 Coach Palombo and the Buccaneers are getting a versatile player that has shown a mindset that impacts her teammates to create success. Massachusetts Maritime are coming off a slow past two seasons like many college lacrosse teams across the country with only eight games in total. Prior to Covid's impact, Coach Palombo as Head Coach, the Buccaneers have shown that his team can compete with anyone on their schedule year after year and with the addition of Michelle Pecoraro, that is sure to continue.
Michelle has been a part of top level travel lacrosse on Team 91 Orange since 2016 and has pushed herself to be the best player since then. She chose team 91 for her high school travel career because of past success and all the opportunities to improve her game with clinics and showcases offered by our program. Her hard work has come to fruition as she has checked off the box of playing collegiate lacrosse, which has been her vision since her freshmen year at St. John the Baptist High School in West Islip. Her expectations going into her recruitment journey was to find a school that fit her disciplined mindset academically and athletically. Pecoraro had been complimented throughout the years for her stick skills and speed, allowing her to have many opportunities for her collegiate future. When she stepped foot on the Mass Maritime campus, she imagined herself being a full time student immediately because of the atmosphere of the team and the welcoming feel of the area.
"I feel like I would fit in with the team and the school because I love the atmosphere and how everyone there is so hardworking. A military environment is not for everybody but it has always been something that I've always wanted to do!" said Michelle, when asked why she knew Mass Maritime was the right fit.
Pecoraro plans on majoring in Emergency Management and will continue being an impact on and off the field for the Buccaneers as she was for St. John the Baptist and Team 91.
Michelle Pecoraro has one of the highlight tapes you should consider watching twice if you are an aspiring goal scorer. She continuously has the awareness to take the next step through the initial defender to create space for an open shot. While having the ability to get top side, Michelle has a keen understanding of the field and where the slides are coming from, which is evident from her vision to dish out assists to her teammates. She seems to be in the right spot on the field, whether that be during a fast break opportunity or a ground ball scuffle that ends up in her possession. When asked about Pecoraro's impact and ability, Sara Carotenuto said,
"She has quick feet and reads the field well. She can sink free positions, roll the crease, feed, or attack from any spot. I think one of the most impressive things about Michelle is just her ability to excel at whatever she puts her mind to. She has always been a player that prides herself in being coachable and she will make sure to do what is best for the team. You could tell her to play defense for an entire game, and she would put her all into it just the same. She is unselfish and willing to work for whatever her team and coaches need of her. She is able to manage her time to not just be an exceptional athlete, but student."
With Michelle's lacrosse IQ, tied in with her speed and stick skills, there is no doubt she will continue to learn from the coaching staff at Massachusetts Maritime and will compete at a high level right from the start of her college career.