22′ Orange Attacker Gina Giambald Commits to Western Connecticut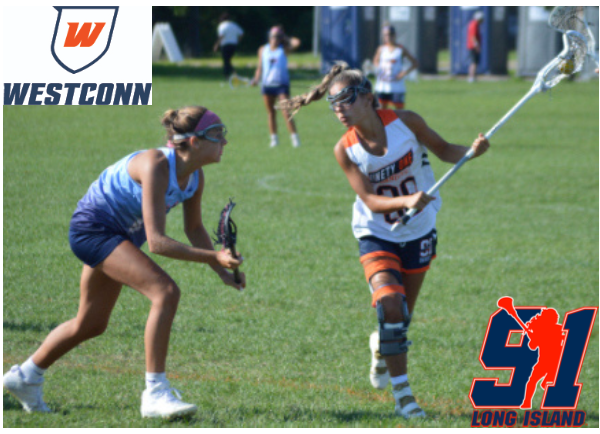 Since Gina Giambald made the choice in 2019 to join Team 91 2022 Orange AA, it has been nothing but years filled with great experiences and positive impacts. Her decision to take the next step to improve her game by joining Team 91 stemmed from seeing how close her older brother was with his team and wanted that same experience. With that being said, that's exactly what happened and she now considers her teammates on Orange AA family.
Gina knew she had a future in lacrosse at a young age saying, "I realized I wanted to play lacrosse in college when I was in middle school. I loved the sport so much and I always wanted to get out on the field and I knew I wanted to proceed playing in college.". This was not a solo mission to get to where she is now as she gives credit to her role models, the coaches at East Meadow High School and Team 91 and of course her Father for helping her throughout her journey.
With a jam packed 2021 Summer slate of tournaments and showcases, Gina was put to the test, playing in some of the most competitive brackets in each event. With a packed schedule, the four-year starter at East Meadow High School was bound to get the attention of college coaches. Not knowing where she wanted to spend the next four years after high school, Gina saw Western Connecticut State University play in the Spring of 2021 and knew right away that they were a highly skilled competitive team she wanted to be a part of. She contacted the coach soon after and from then on Western Connecticut was at the top of the list. When Giambald made her first visit onto the campus, it was love at first site, she knew immediately that it would be her second home. To solidify her future commitment to West Conn, Gina went on to say, "When I had met with the players they were all so welcoming to me and very nice and funny and outgoing and made me feel so comfortable. The whole team has the work ethic I'm looking for, always wanting to do their best no matter what."
The 5'2 lefty attacker with a physicality that continuously makes her a threat to score on the field is going to have plenty of success in the future. With the ability to run through checks and make her way through the defense she always seems to know where the open teammate is. She dodges with authority at the same time keeping her head up ready to dish it out to a cutting teammate. Western Connecticut is getting an all-around tenacious player who can initiate the offense as well as create a key turnover on the ride. Gina is a player who isn't afraid to have the ball in her stick when her team needs to make a play and Western Connecticut will continue to have success with Giambald joining the roster in the Fall of 2022.