'22 Orange Francesca Viteritti Commits to Stony Brook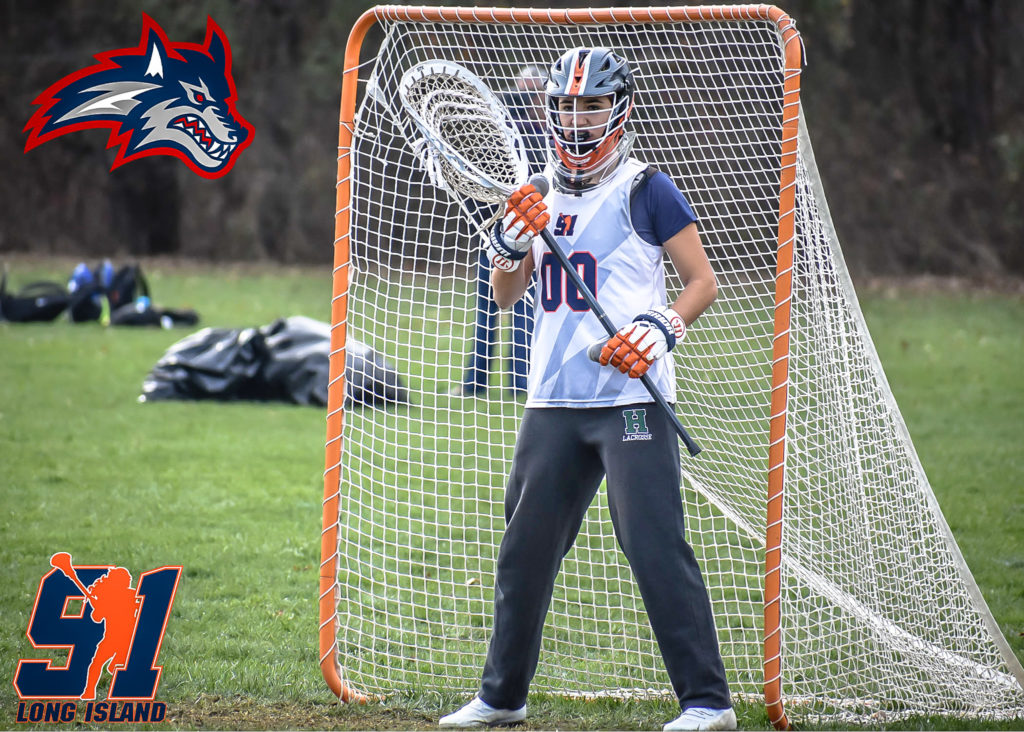 Follow Team 91 on Instagram, Twitter and Facebook.
Francesca Viteritti always knew there was something special to her about Stony Brook.
The Team 91 2022 Orange and Harborfields goalie has been no stranger to Seawolves' games, frequently making the 35-minute drive to check out the America East powerhouse at work. Coached by Team 91 boys' coach Joe Spallina, Stony Brook has blossomed into a perennial top-10 program. Viteritti would routinely make her way to campus, and the idea of going to school there was always in the back of her mind.
When she committed to another school, it seemed like that idea had swirled away. The more she thought about it, though, the more she couldn't bear the idea of venturing too far away from home.
"My parents have never missed a tournament," Viteritti said. "I've never played a game without at least one of my parents watching. I just thought it would be really cool for them to come and watch me play. I wasn't ready to give up the little support system that I have going."
As the process continued, the Seawolves found themselves needing a goalie in the '22 class, and even though Viteritti knew Stony Brook was a special place, she wasn't going to drop her previous commitment for just anything.
"Knowing that I was already committed, I knew that it would really have to be an offer that I couldn't pass up to switch," Viteritti said. "I just saw a better opportunity for me and something that would benefit my future."
So when the Seawolves came calling with an offer to backstop the next group of championships, marrying her dream of playing Division I lacrosse with the best fit for her, Viteritti knew it was the right fit. She committed to Stony Brook, where she'll join fellow Team 91 alumnae Lauren Kenny (Riverhead), Katie Poretsky (Long Island Lutheran) and Lexie Correia (Long Beach) as Seawolves.
The Perfect Fit
"Touring campus, I loved that it's not too big or super small," Viteritti said. "I've always dreamed of playing Division I lacrosse and of being able to take lacrosse to the next level. It's something I saw myself doing and I really just fell in love with when I went to visit."
Viteritti plans to study nursing at Stony Brook, something that she's been interested in for a couple of years. She saw her grandmother battle health issues in the hospital and since then, she's been passionate about the opportunity to help others.
"Seeing the nurses being able to help people is something I want to be able to do for someone else," said Viteritti, who earned Suffolk County Rookie of the Year honors as a freshman and was All-County this year. "I always wanted to go into the medical field. I want to be a specialized nurse. I know for a fact that I want to be in nursing. I've always loved helping people. It makes me feel good as a person to know that I'm helping someone."
Right Where She's Supposed to Be
It's been a long road for Viteritti to get to where she is. It's a testament to her dedication, talent and determination, too. She started playing for Team 91 in sixth grade and stuck with a very close-knit group of talented girls that comprised the '22 Orange team. So much so, that…
"They're my best friends. 91 actually gave me my best friends, and we stuck together and came through," Viteritti said. "I've truly grown as a player with 91 and I'm so excited to take my game to the next level. I believe that I'm going to do great things and can't wait to see what the future has in store."
What's in store for Stony Brook is a tall goalie who's also athletic enough to play forward on the basketball court and defender in field hockey. Despite being 5-10, Viteritti prides herself on her ability to take away low shots with her quick feet and fast hands. More importantly, she commands a defense and has plenty of big-game experience, which makes her a great fit for the Seawolves.
"Francesca has been the rock of our team for a long time," '22 Orange coach Sara Carotenuto said. "She's got such a presence in the cage and has a knack for coming up with clutch saves. What's great about her, though, is that she's an even better person than player. She's put in a ton of time and work to get to where she is, and it's so exciting that her family and friends won't have to go very far to see her play at the highest level of college lacrosse. I can't wait to see what she does as a Seawolf, and they're lucky to have her."