'22 Orange Maddie Schubert Commits to Pace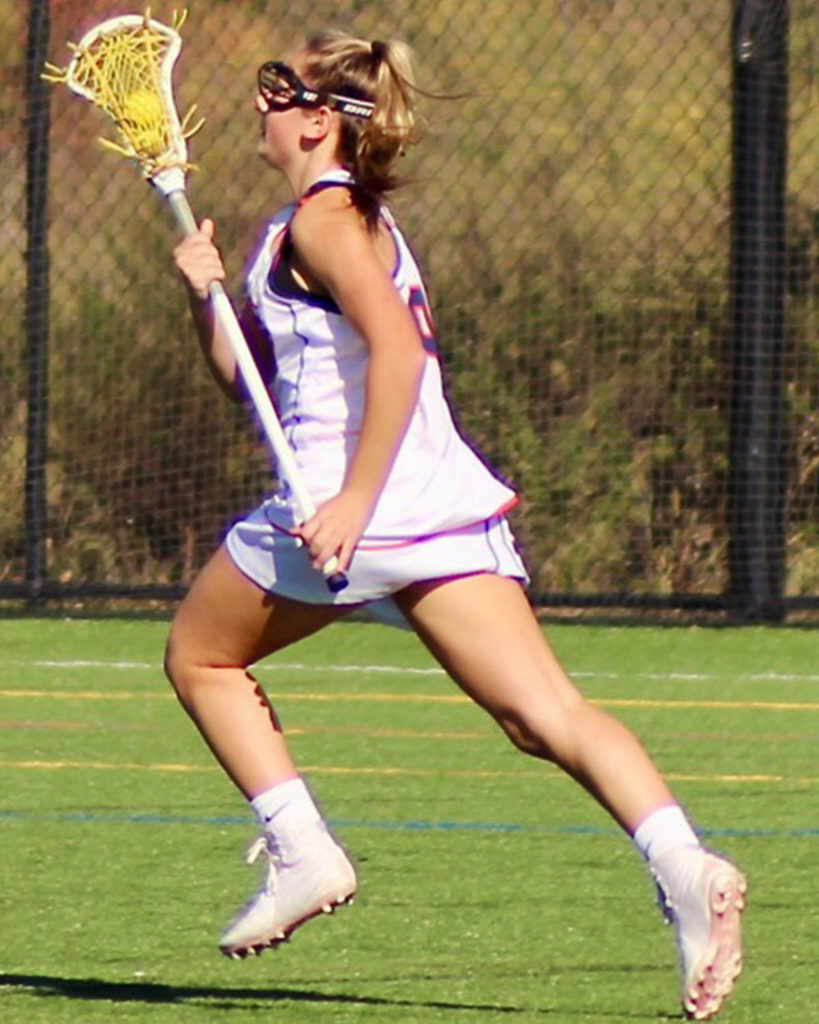 Follow Team 91 on Instagram, Twitter and Facebook. CLICK HERE to find out more about the Team 91 Bandits clinic, being held on 5.14, 5.21 and 6.4. CLICK HERE to find out more about our 2021-22 tryouts set for July 26-28. 
Maddie Schubert was totally dialed in to the idea of going to college away from home. Far, far away. The Team 91 2022 Orange and Comsewogue midfielder had her sights set on going to school somewhere South with warm weather for all 12 months of the year.
It's funny how quickly things can change. Schubert decided to take a visit to Pace, a Division II school less than 90 minutes away from home. Once she got on campus, she knew she didn't need to look anywhere else. This was the place for her.
"I knew right away that Pace was the one for me," Schubert said. "It had everything that I was looking for. I loved it right when I took the tour. The campus was beautiful. I didn't want the big school, and even though I really wanted to go away at first, I changed my mind right when I got there. I looked at another great school, but I just felt like Pace was a special place for me."
She became the second '22 Orange player to commit after teammate Emily Sheridan (Hauppauge) chose Dominican. She'll join a pair of 91 alumnae on campus in '21 Kate Laico (East Meadow) and '20 Kamryn Berberich (Floyd) at Pace.
Part of the reason why she was so comfortable at Pace was its early childhood education program. She's always had a love for working with kids, so being a teacher is a natural fit. Additionally, Schubert is interested in also working in the special education field, something that hits close to home for her.
"I have dyslexia," Schubert explained, "and it's always been a challenge for me. I have to do a little more than everyone else in school. I have to study more and I take a lot of time with my other classes. That's part of why I've always known that I wanted to go help other people. My experiences led me to it."
Schubert doesn't shy away or hide from explaining how she deals with dyslexia. It's a microcosm for how she plays, too. A fast, aggressive midfielder who thrives off of making plays all over the field, she's been a crucial part of the '22 Orange team's success. Also a dynamic field hockey player, she's the type of player that every team needs. She can score goals, stop them at the other end, and run by anyone in transition. Her versatility will serve her well at the next level. She recently put all of her tools on display at the inaugural Long Island 99 Showcase, where she stood out as one of the event's top players.
"Maddie's been such an impactful player for us," '22 Orange coach Sara Carotenuto said. "Her energy and attitude are contagious, too. We know what to expect from her every single game, and she's done an incredible job of working hard to put herself in a great situation. I think that she's going to make an immediate impact on the field at Pace. More importantly, though, I'm so glad that she found the right fit with the school. She's going to do great things at Pace and I can't wait to watch her crush it there."
Schubert has seen her game make a meteoric rise in her three years with Team 91. While she's enjoyed the team's success on the field, it's the overall experience – including her teammates and coaches – that have helped mold her into who she is today.
"I love playing with my 91 team," Schubert said. "Our team really is all a family. My confidence grew a lot from 91. The coaches and the players really increased my family, and I carried it over to field hockey and my school's lacrosse team. That's definitely where I've grown the most."
Bella Rupolo, attack, Bellport – Western Connecticut (Commitment story)
Maddie Schubert, attack/midfield, Comsewogue – Pace
Emily Sheridan, defense, Hauppauge – Dominican (Commitment story)