'24 Orange MJ Timpanaro Commits to Rhode Island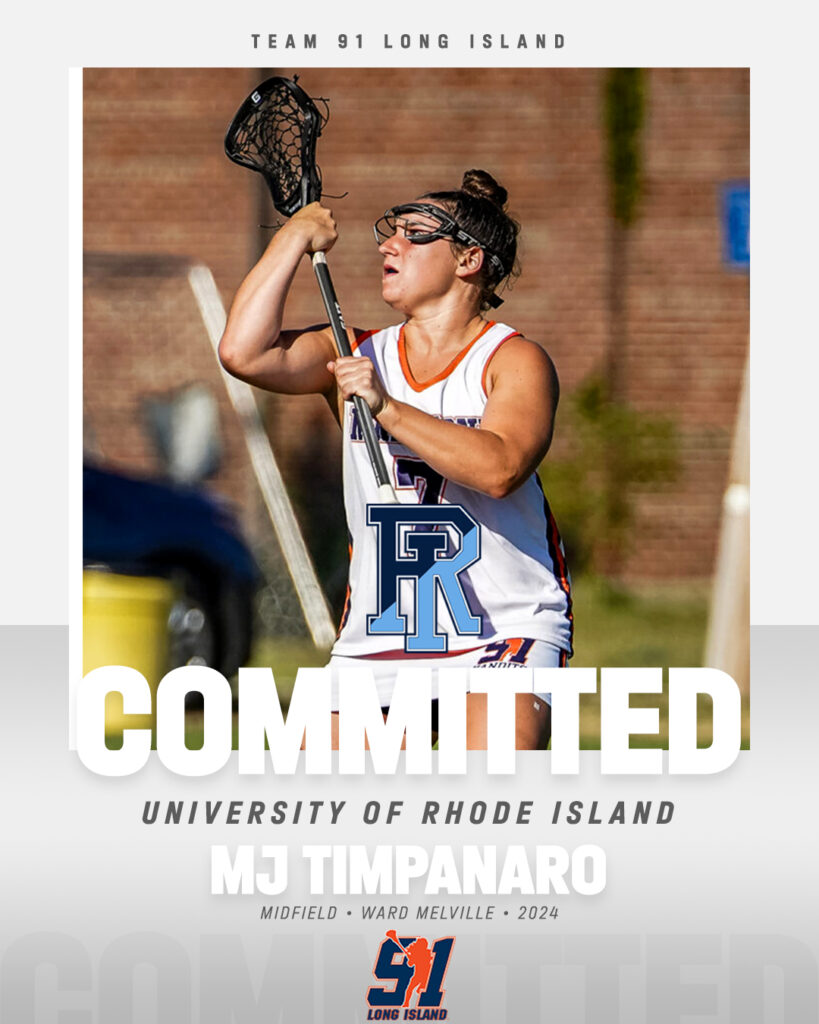 Follow Team 91 on Instagram, Twitter and Facebook. 
MJ Timpanaro never imagined that she'd pursue a Division I lacrosse career when she first picked up a stick.
As a matter of fact, she couldn't wait to put the stick down again. A gymnast and soccer player to start her athletic career, Timpanaro's introduction to lacrosse was… less than stellar.
"I didn't like lacrosse at all when I first started," Timpanaro said "I would have never thought that I'd play in college and I would have thought I'd do gymnastics. After a couple of years, though, lacrosse had my heart."
Laying the Foundation
Fast forward some seven years later, Timpanaro is headed to college to play lacrosse after all. The Team 91 2024 Orange and Ward Melville midfielder committed to Rhode Island, a new Division I program starting play in 2024. She's the first Team 91 player to commit to the Rams. For Timpanaro, joining something brand-new was incredibly appealing, and it was a major reason why she turned down more established programs to head to URI.
"The fact that this program is just starting helped set it apart," Timpanaro said. "It's special to be a part of building something special where you can make a legacy at that program. It's going to take time, but you need patience. It'll be a different feeling to be a part of that success, but it'll make it all worth it. With all of the girls and coaches invested and all of us being on the same page, it'll help the team lift up and get going."
Timpanaro, tabbed as one of 150 players for the USA Lacrosse NTDP Combine, has come a long way since her unceremonious start to her lacrosse career. She joined Team 91 at the end of seventh grade and since then, she's continued her upward ascent into a top-flight collegiate prospect.
Upward Trajectory at Team 91
Timpanaro put together a strong spring campaign for the Patriots, then followed it up with a lights-out performance this summer. That's when she realized that she could play lacrosse at the next level, and that dream quickly became a reality when schools started reaching out to her right away on Sept. 1.
"After joining Team 91, I really started developing my skills more and I had the confidence to play at a higher level," Timpanaro said. "The program's been great with developing my skills on off the field, especially with the trainings being super intense and the coaches being super supportive. My confidence has also been higher since the spring and I started thinking that I could maybe go D-I. I really realized it after all of the schools started calling me."
Timpanaro's work ethic has helped set her apart. It's a major reason why she's been able to get to this level, and Team 91 girls' director Jill Pfeifer thinks it's what will help her be a crucial part of setting the foundation at URI.
"MJ has continually put in the work to get better and she has consistently improved by leaps and bounds since she joined Team 91," Pfeifer said. "She's a superb midfielder and a gamechanging presence in the draw circle. It's fitting that she's joining a new program in URI because she's going to help establish an elite culture with her work ethic, personality and ability. We couldn't be more excited for her and can't wait to see what's in store."