Catching Up With…Hailey Wagner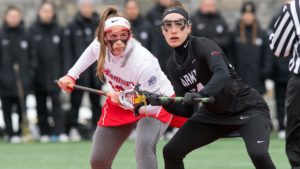 Follow Team 91 on Instagram, Twitter and Facebook. 
It's ironic to look back on it now, but Hailey Wagner's introduction to the draw control was fairly innocuous.
"In youth and middle school lacrosse, it's just usually anyone who's a middie that takes the draw," Wagner said. "When I got to JV, my basketball coach was also our lacrosse coach, and he didn't know too much about it. He just said, 'you've got hops. Why don't you just go up there and use one hand?'"
"In high school, it became one of my strengths. I didn't train specifically for it, but I was recruited for it and it became more of a science when I got to college," Wagner added.
There's no doubt that it's working. The Team 91 2015 and Bellport alum hasn't just found a niche for herself. She's the best in the country at it, and it's not really close. Heading into Saturday's MAAC tournament opener against Manhattan, Wagner ranks first in the country with an absurd 11.88 draw controls per game, a full 1.24 draws per game more than the second-ranked player and 2.81 draws more then the third-ranked player.
What's even more amazing is the disparity in the numbers between her junior and senior years. She broke the Marist record for most draws in a season at 8.88 a year ago, and now she's grabbing a full three draw controls more per game. Wagner recently cracked the 500-draw control mark and is third all-time in NCAA history.
So, uh, yeah, she's pretty good at this stuff.
"A lot of times, people think it's whoever is the strongest, and that helps," Wagner admitted. "But we focus on wrist quickness, scouting players' hips and specifically look for what style of draw they most often do and how to counter that. We also look to see how well their circle people communicate with each other. Being tall is nice, but I think quickness, good reaction and instincts matter a lot more. For me, a lot of my success has to do with my ability to direct the ball where I want it and collect it before the other team can go over my back and beat me out to it."
The Red Foxes have a core group of five or six girls who join Wagner in film study, and they're tasked with helping her get the ball in the circle. She credits her teammates for her ascent up the record books, acknowledging that it'd be impossible to be there without their help.
"Draw controls are something that I take a lot of pride in, and the people who prepare me in practice are a really big part of it," Wagner said. "It's awesome to have individual success, but it's more of a testament to how prepared I am by my teammates."
Wagner would need to help her team to a nifty little postseason run in order to vault to the No. 2 spot all-time – No. 1 is out of the question – and she'd be all too happy to guide the Red Foxes to a MAAC title and a berth in the NCAA tournament.
Hopefully, they can draw on her experience to get there.