'22 Orange Midfielder Mackenzie Carita Commits to Pace University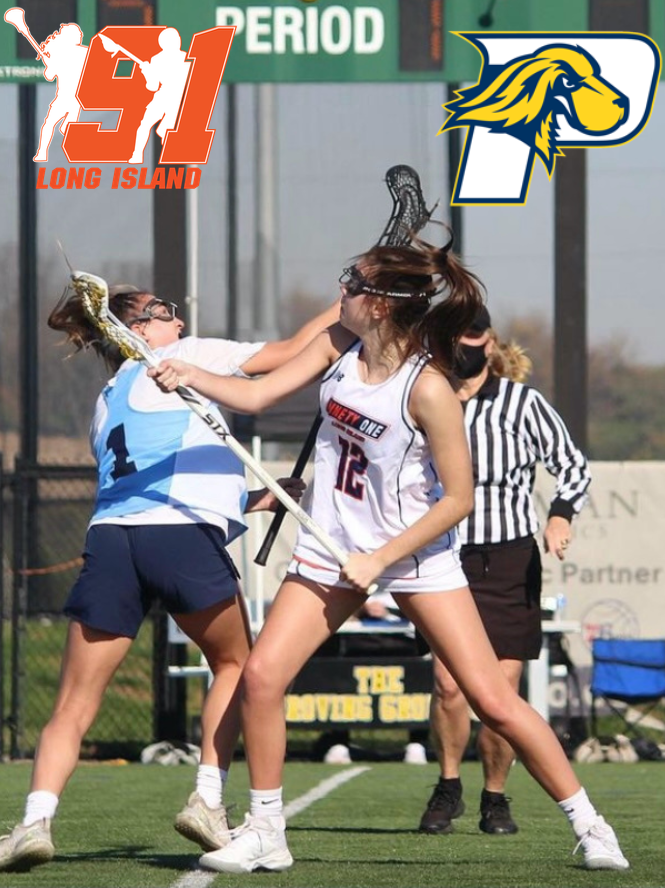 Ever since she was nine years old and picked up a lacrosse stick, Mackenzie Carita knew that lacrosse was going to be her passion. "I was always a soccer player, but once I picked up a lacrosse stick, I fell in love with the game." said Carita, who is now a standout midfielder at Patchogue-Medford High School and who has been a part of Team 91 2022 Orange since 2019. As an 8th grader playing on the JV team, Mackenzie had a coming too moment that she did not want lacrosse to end after high school. From then on, it was her mission to continue to grow her game and find the best fit to excel on and off the field in college.
The Process
As Mackenzie and every lacrosse player in the class of 2022 began to focus on the recruitment process, Covid-19 threw a wrench into the expectations of the entire journey. Summer tournaments were cancelled, prospect days moved to later dates and official visits being postponed created an unexpected bump in the road. Carita, being put into a tough situation handled it just like she has handled tough plays on the lacrosse field, cool, calm and collected.
With minimal film going into her junior year, the choice she made in 2019 to join Team 91 2022 Orange showed itself to be the right decision. "Thankfully, Team 91 stepped up and organized game days and tournaments with film. I was able to make a highlight video and send to all the schools that checked all the boxes." said Carita, when asked about her recruiting process through Covid.
One of those schools that checked all the boxes was Pace University. Within days of sending her highlight tape, the coaching staff at Pace knew Mackenzie was the type of player that can make an impact immediately and requested further conversation. Just like when she was nine years old picking up a lacrosse stick for the first time, Mackenzie had that same love at first site experience when she stepped foot on the Pace campus. An aspiring Biology major with a 4.0 GPA in Honors and AP classes, Mackenzie loved the campus feel and envisioned herself being a part of what Pace University has to offer for the next four years.
 Immediate Impact
Mackenzie is exactly what any college team looks for in a midfielder. She is a three sport varsity athlete (lacrosse, basketball, soccer) who makes an impact for each teams success. At 5'8 with speed that can match any player on the field, Mackenzie with no surprise puts the game in her hands by controlling the draw for her team. She excels at taking advantage of fast break opportunities with her strength and speed tied with her high lacrosse IQ and awareness. Carita can create offense at any moment, making her a threat at all times. She is a midfielder that can do it all, clear the ball with ease, play lockdown defense, find the open player, you name it, Mackenzie is the answer. She credits her parents, coaches and her fellow players throughout the years for her success and will bring that humble mentality to Pace University. Carita will be a key component to the Pace Setter's success in the future without a doubt.