Meet the New Team 91 Bandits Directors: Sam Tilts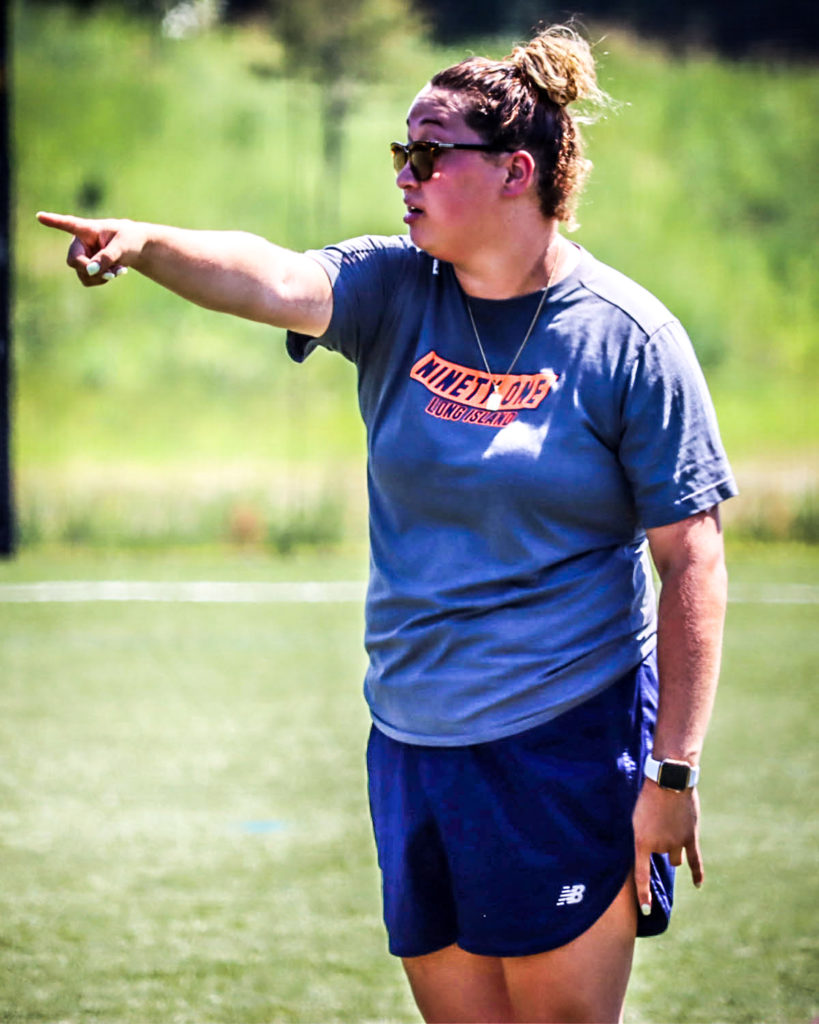 Follow Team 91 on Instagram, Twitter and Facebook. CLICK HERE to find out more about the Team 91 Bandits clinic, being held on 5.14, 5.21 and 6.4. CLICK HERE to find out more about our 2021-22 tryouts set for July 26-28. 
Sam Tilts' introduction to lacrosse wasn't quite normal.
A soccer goalie by trade who'd never played lacrosse, Tilts was asked by her high school coach to come play lacrosse. She immediately found herself on the varsity at Schreiber. Pretty normal, right?
"They put me on varsity and I'd never played," Tilts said. "They said that because I had an aggressive nature in goal for soccer, it would translate well to lacrosse. I played in the winter league and I wasn't afraid. I worked a lot on it. I was working with trainers every day for two hours after school and practicing seven days a week for a few years. I'd also practice with the boys and then the girls. It was a lot."
All that did was put her on a fast track to play Division I lacrosse at Quinnipiac. Before that, she starred for Team 91 under Dan Spallina, racking up individual awards by the bushel along the way. While at Quinnipiac, she made herself a prominent part of the record book, finishing in the top 10 for career saves, goals against and highest saves per game average. Tilts parlayed that stalwart career into a spot with a US team in Germany.
"As a freshman in high school, having never played lacrosse, Spallina took a chance on me when he asked me  to become a part of 91," Tilts said. "With guidance from him, my high school coaches, and family, I was able to fall in love with a sport that has changed my  life. After graduating from high school, I immediately began coaching for the program."
Bringing Experience and Excitement to the Program
All of that 91-centric experience made her a natural fit to become one of the four Directors of Development for the Team 91 LI Bandits, joining former Stony Brook and Adelphi All-American Claire Petersen and former Colorado Mesa All-American nominee Jill Pfeifer, as well as another one who will be announced next week. They'll form a group spearheaded by National Director of Development Sammy Jo Tracy, one that will be instrumental in empowering the 91 Bandits players and developing them into elite players.
"After ten years of coaching for 91 and having played for them from the age of fifteen, it was a no brainer for me to agree to take a director position," Tilts said. "I am forever grateful to the club for mentoring me and my entire coaching career has been built on gratitude for those who believed in me and continue to support me."
"Over the course of fourteen years, I have experienced this program as a player and a coach. Stepping in as a director gives me the opportunity to use my experiences to elevate this program even further," Tilts continued. "Like many clubs, we expect greatness from our players. Something that sets us apart is our ability to give our players the tools to grow, not just to tell them to be great. Being a teacher, I recognize the importance of not just fostering great players, but being a good role model and mentor for these young women. Being a former Division I student athlete, I understand the importance of academics as well as athletic talent in the recruiting process and therefore impress it on my teams. I hope that if there is one mark I can leave on this program, it's to graduate women who feel empowered and confident not just in lacrosse, but in life and in their future careers. I can't wait to get the ball rolling with some insane training, recruiting, and fostering love for the sport that changed my life."
Team 91 founder Brian Spallina has worked tirelessly to elevate the Team 91 girls' program, and he knows that adding a director of Tilts' character and coaching acumen will give the program a huge boost as it continues its ascent in the club lacrosse world.
"We've had an up close and personal look at Sam's development as a player, coach and person, and she's the type of person that we strongly feel will help our girls become better people and players," Spallina said. "Sam's so dedicated to teaching the game and empowering our girls to continue to get better and better. We couldn't be more excited to have her join our awesome group of directors, and our players should be PUMPED to have her working with them."